Base Historical Documents and Pictures
NCS Londonderry Welcome Aboard Phamplet, Circa: 1967 (Jim Leuci)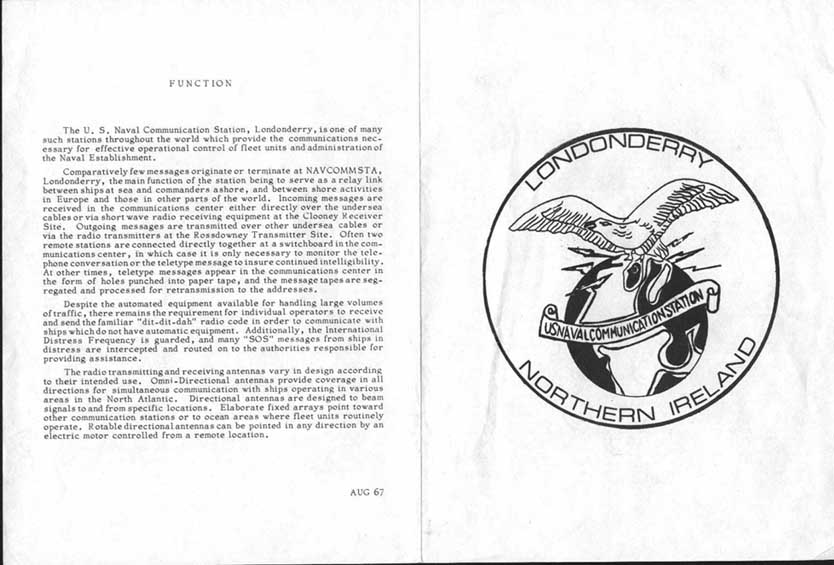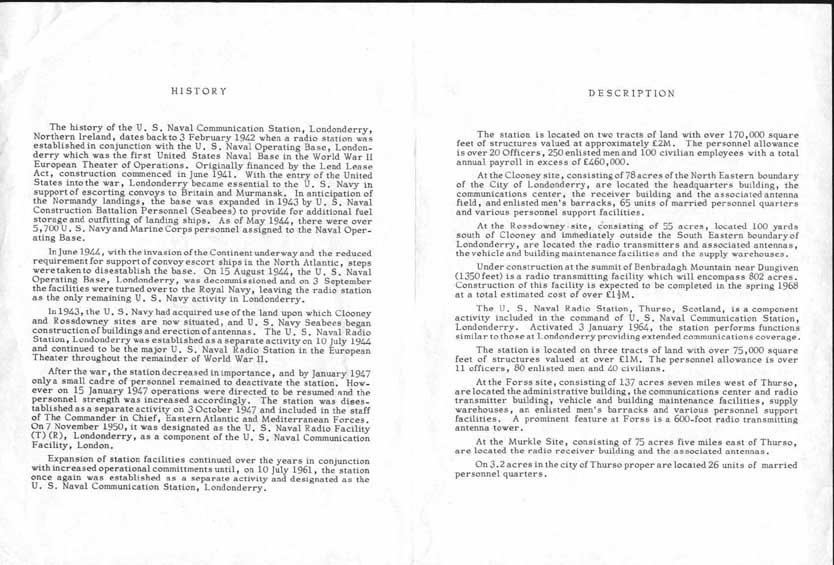 Change of Command Ceremony Program, July 9, 1976 (Deirdre Baxa)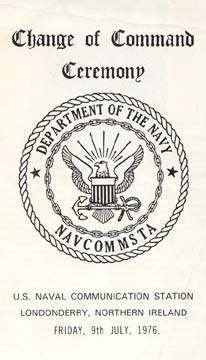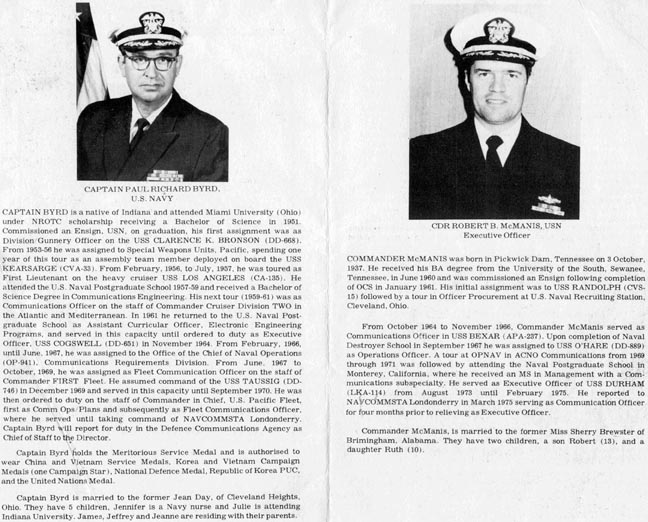 Base Disestablishment Ceremony Program, July 27, 1977 (Deirdre Baxa)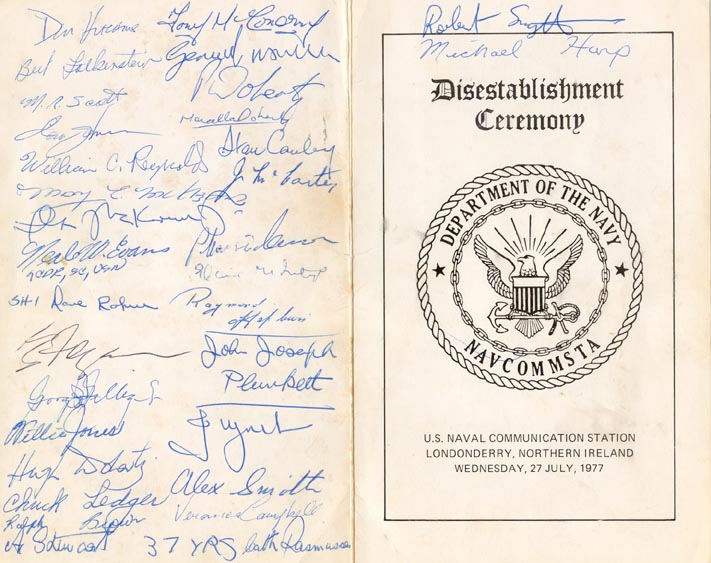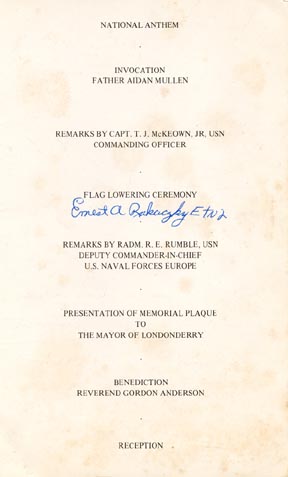 History portion of the Base Disestablishment Ceremony Program, Circa: 1977 (Deirdre Baxa)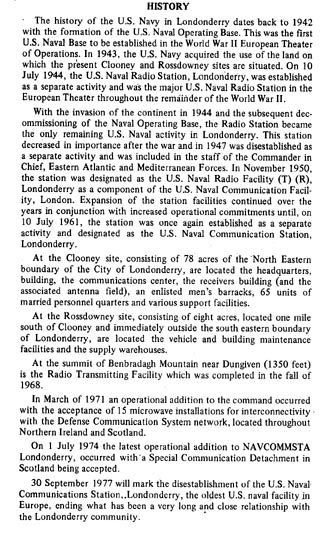 Derry Journal newspaper article from February 27, 1976
announcing the Base closing. (from Dennis Kolodziej)

Official Navy 'Script' (Five Cents) issued to NCS Londonderry Sailors in the 1950's.
RM Frank Smith (58-61), tells us this script was issued on the base when he arrived in 1958. 
It could be used only at the Exchange, Commissary, and the EM Club.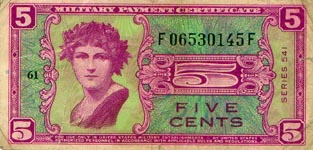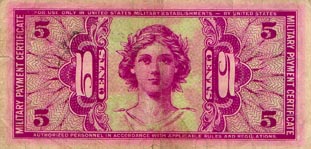 Derry Pictures from 1943
  SN Joseph Retcho provided these pictures of Derry taken during his tour in 1942-43. 
Top: Shipquay Street; and The Guild Hall - 1st Anniversary of the Red Cross 
Bottom: William Street; and The Guild Hall Square in front of Derry Walls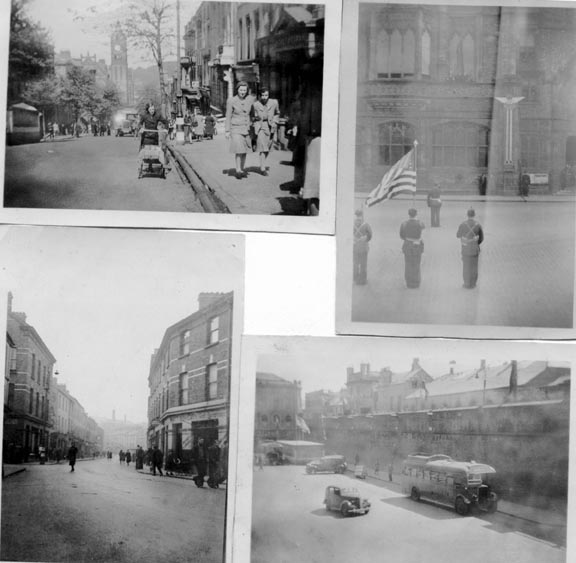 US Sailors take part in 50-Mile walk in 1964
From left to right: Edward Matthews, Ernest Miller, John Larsen, David Bland and Clarence 'Joe' Thigpen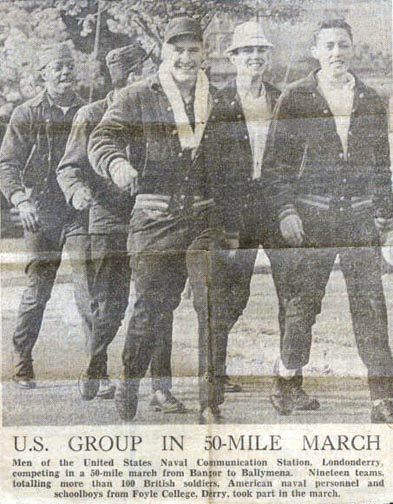 RM Dave Bland provided this picture from a 1964 Derry Newspaper.
RM Joe Visco provided the above names and the following story of the Walk from the base newspaper:

NAVY MEN IN LONG HIKE; 18 COMPETE, 2 COMPLETE Accepting a challenge to take part in the "All Northern Ireland 50 Miles March" across rugged mountain roads, U.S. Naval Communications Station Londonderry hopefully entered four teams totaling 18 men. Others among the 710 marchers represented the North Irish Brigade, the Royal Navy, the Royal Air Force, and various colleges and universities. Unfortunately, hot weather and the rugged terrain of the green, craggy hills proved more than a match for most of the aspiring hikers. Only 12 finished the long march. Among this hardy dozen were two U.S. sailors from NAVCOMMSTA Londonderry: William Campbell and Joseph Visco. Their Commanding Officer, Captain A.P. Carpenter, USN, presented each of the two men a suitable award - a new pair of shoes.




Base Children Compete in "Feile Rinnce Cholmcille" Competition (1971)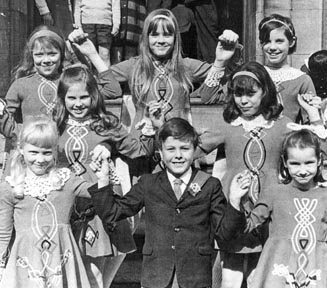 Top Row: Kelly Alvis, Susan McCullar, Diane Cullins
Middle Row: Jennifer Newcity, Kathy Jaszewski
Bottom Row: Linda Shea, Donald Jaszewski, Holly Holland
Missing from picture: Allison Lynch
In April of 1971 these Base children, who were pupils of the "Dorian School of Dance,"
became the first Americans to compete in the "Feile Rinnce Cholmcille" competition.
They received a great ovation from the audience.
(RM Dick Shea's wife Margaret provided this picture.)



U.S. NAVCOMMSTA Londonderry Chief Petty Officers, Circa: 1966
(UTC Ed White (65-67) provided this picture)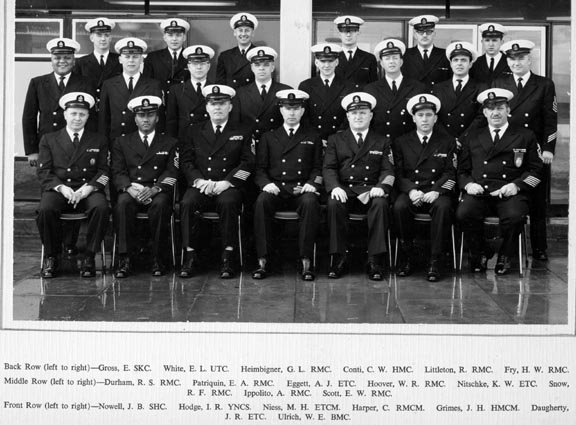 US NAVCOMMSTA Londonderry Basketball Team: 1963-1964
Top: Jack Clark, John Hart, Bob Allard, Les "Pooch" Palangi, Gerry "Hog" Hogarty, George Galligan
Bottom: Joe Zaverick, Paul Cafasso, Tom Glick, Don Flack, George "Moe" Hart
(ET Paul Cafasso (62-64) provided this picture.)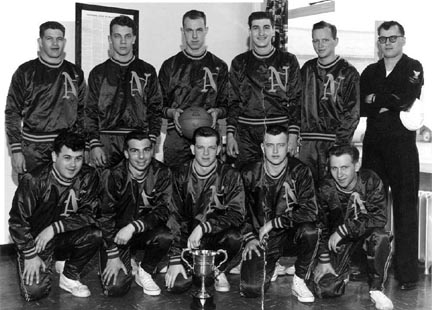 Some 1977 Mementos, provided by Marion Williams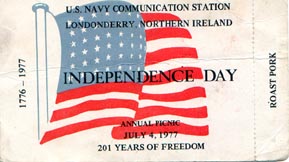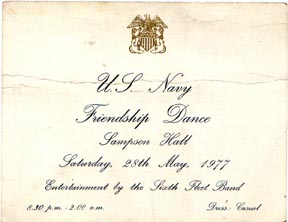 US NAVRADFAC Londonderry Base Personnel, Circa: 1953
(ET Harry Gustafson (51-54) provided this picture.)
Send us name and picture location of anyone you recognize.


An Article about the 1963 Fitness Walk

(RM Richard Williams (61-64) provided this picture.)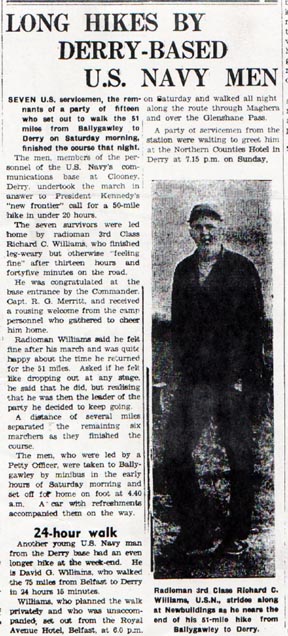 US NAVCOMMSTA Londonderry Basketball Team: Circa: 1966
(RM Bob Allard (64-67) provided this picture.)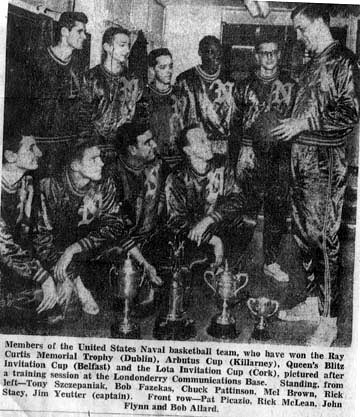 RE-Enlisting for an extension of tour at NCS Londonderry: Circa: 1967-68
Top: Don Creager, Al Weir, Bill Scudder, John Calopietro, John Boyda
Bottom: John Bloom, Rick Cavazos, Chief Bill Ryan, Jim McKee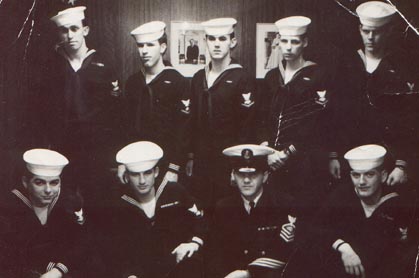 Londonderry, Northern Ireland Circa: 1830
or, "Derry when Sully was there!"
RM Bob Gradisher (64-67) came across this old 1830 engraving of Londonderry in a Dublin shop.
When Bob e-mailed me this copy, he titled it "Derry when Sully was there!"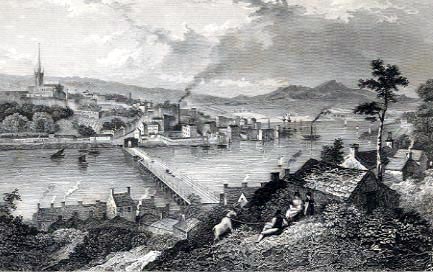 NCS Londonderry Change of Command Ceremonies, 1962
Captain R.G. Merritt (center) takes command from Commander R.M. Petty (right)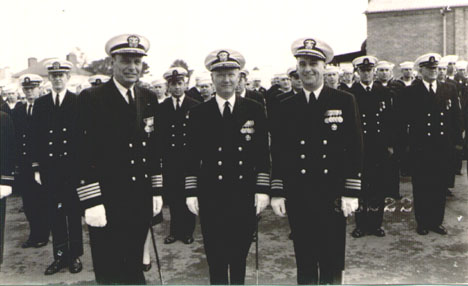 1965 NCS Londonderry Base Basketball Team
Front: (First name?) Moore, Chuck Pattinson, Jim 'Sully' Sullivan, Homer 'Buzz' Treat
Rear: George 'Double-G' Galligan, Jerry Dean Harrison, Bruce Worth, Rich Mclean, Mike Kelly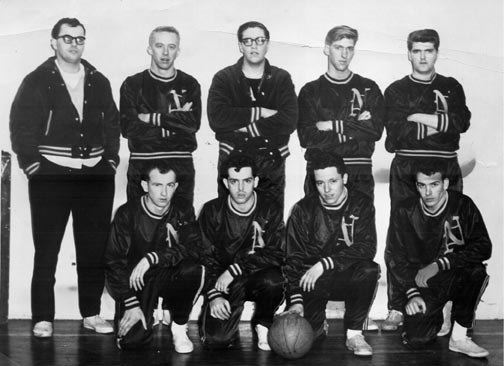 (Thanks to George Galligan for this picture)



1964 NCS Londonderry Base Walkers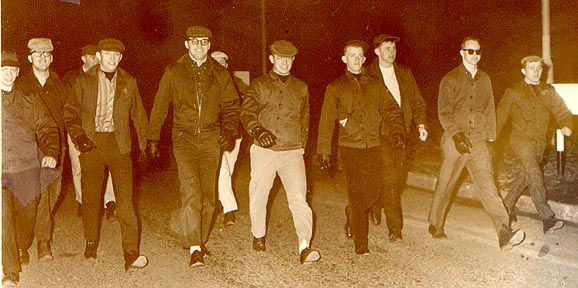 (Thanks to George Galligan for this picture)



Click on 'Back' button to return to the NAVCOMMSTA-Londonderry Home Page.