U.S. Navcommsta Londonderry Alumni Association
Do You Remember.....? (Send us any memories you'd like listed here)
The following is an interesting and humorous story reflecting back as a then teenaged Derry lad employed at the Springtown Base CPO Club during WWII.
Submitted by Bill Mc Cool, Civilian, 42 - 44.
Click on "VIEW" to read story: VIEW


Do You Remember these Derry Terms .......?
Guaranteed to bring a smile to your face and warmth to your heart!
Submitted by Catherine 'Rene' Doran Wallis, Civilian, 64 - 68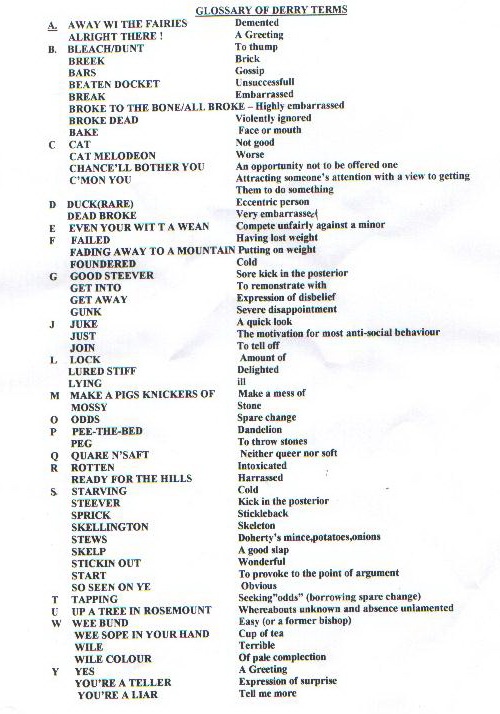 From Gordon Bauschka, RM RM, 6/66 to 5/69: "Ah - NCS Derry in the 60s. I was there 6/66 to 5/69. What a great place! All the pictures really bring back memories. Petrol on the base for a quarter a gallon (an imperial gallon no less), a couple of shillings for a good pint of beer, movies for a couple of bob, JANAP 127, torn-tape relay, the wire room, crypto, the infamous MAPU machine, that circuit we had with the blokes (mostly WRENS) in Whitehall that used to drive us nuts, Friday nights at the club in coat and tie (remember how the mid watch would relieve the eve watch early?), marching through housing after a personnel inspection, Bridgett the blind telephone operator (never had a misplaced call), flag football - although some guys thought the flag was a permanent part of the anatomy, the bus runs, Borderland, hearing "pass the time" at Ken's Den, the commissary in the Quonset hut with two isles- no American meat, and I could on and on and on. One of my many most memorable times was when I went hunting with Rick Cavazos and Don Decker. I had bagged a pheasant, but as I approached the bird it jumped up and started to take off. Well I shot it again. But I was only a few feet away, and with a 12 gauge, well, there just wasn't much left. Rick tried to piece it together, but no luck. After that I earned the name "Great White Hunter", and they wouldn't let me go hunting with them again. It's a little sad when you talk to some of the young sailors today, they never heard of NST. Most people are surprised when you tell them that the US had a base in Ireland. I guess it was a well kept-secret, which is all right with me. Makes it even more special."
From Chuck Pattinson (RM, 65-67): Does anyone remember in the 1960's the meat Joe Thigpen and l brought back from Preswick AFB? They (the NI government) wouldn't allow Americans to bring in any food or meat into Ireland. Joe and l got together and drove his car to Belfast and got on the ferry to Scotland. We got on a bus or in a taxi cab [memory not to good] to the AF base. We went directly to the commissary store and filled up 2 carts full of bologna, salami, and pepperoni and brought it back to our base. We passed a good bit of it around to friends and neighbors. One interesting thing happened on the way back to our base. On the ferry there was this dog. Opp's, I forgot to mention we had taken these AWOL bags with us to put the meat in. It had a zipper across the top so you not see inside. Joe and I were sitting on these wooden benches with our AWOL Bags between our feet. I saw this lady with her dog when we sat down but didn't think anything about it. Well this Dog started barking. Joe and I started thinking that damn dog was going to get us in jail. We looked down at the AWOL Bags and the bottom  of the bag was getting wet, some of the meat was thawing out. We did the only thing we could think of and that was move down away from the dog. That seem to take care of things. When the  ferry docked Joe and I got off that boat as fast as we could, got in the car and headed home (to Derry) laughing and cutting up about what just happened.
From John "Jack" King (RM, 44-46): Does anyone remembers Ma Malloy's steak and eggs, and fresh milk during the war, or "sorties" over the border in civilian clothes, or the trips to Bangor and Belfast?

Tommy and Sydney Bradley from The Diamond Bar? Tommy (who was a wonderful Tap Dancer) passed away 09/06/89 in Deal, Kent, England, and Sydney passed away in 1993 in Rathmullen, County Donegal, Ireland. Tommy's son Michael can be contacted at: williambradley1@btinternet.com

The Corinthian Ballroom, the Cameo Ballroom, the Embassy Ballroom?

The Rialto Theatre on Market Street across from the Wall?

Ken Gallagher from Ken's Den, and a few other 'happening' places back in the 70's?

"Time now, Ladies and Gentlemen!" ?

The Telstar, up in Creggan?

Tee Total Taxi's on Bridge St?

The Johnny Quigley All Stars band?

Willie Laughlin, who worked for Peerless Laundry (See Roy Spencer's pictures). Willie was presented with an O.B.E. the first week in January 2001, by Queen Elizabeth, in recognition of his charity work.

George O'Donnell, John Fegan, and Jimmy Patton were the only civilians who worked at the base from start to end.

That in the early planning stages, Sampson Hall was to be a swimming pool.

Big John Crumley, Head Groundsman, provided bunches of flowers to Navy wives during the summertime.
Do You Remember these Derry Civilian Workers.......?

You might remember some of these CIVILIAN PERSONNEL who worked on the base in the 60's and 70's (Note: they are all eligible to join the association. So if you can contact them, please invite them to become members):
Jack McElhinney, Rossdowney Site, janandbrian@eircom.net
Matt Doherty, Cook, mdod@tinyworld.co.uk
Jack Collins, Cook
Jerry Gallagher,Cook
John McGowan, Cook
Jim Logan, Cook
Billy Fitzpatrick, Bartender
Lexie Smith, Laborer
Jimmy McIvor, Boilerman
Willie Doherty, Phone Operator and Gate Guard
Eddie Tinney, Bowling Alley Attendant
Pat Deeney, Public Works Office, 60's-70's
Danny Murray, Bartender, 67-77
Donal 'Don' Ramsay,
Father McGoldrick, Base Chaplain, 60's (now 87, he lives at the Nazareth House, Fahan, Co. Donegal, Ireland)
Harry Roddy, the Barber
Ned Fegan, Barracks worker
Carl Campbell, Bartender
Michael McBride, Bartender
Joe McLaughlin, Bartender
Patrick 'Pat' Canning, Public Works Clerk
Patrick 'Paddy' McMenamin, Store Keeper
Charles 'Charley' McKay, Welder
Leo Gillespie, Mechanic
Daniel 'Dan' Coyle, Mechanic
Charles 'Charley' Doherty, Machinist's Assistant
Samuel 'Sam' McLaughlin, Carpenter
Samuel 'Sammy' Chambers, Carpenter
Mathew 'Mattie' McColgan, Electrician
James 'Jimmy' McGee, Painter
Joseph 'Joe' Moran, Rigger
Alexander 'Alec' Kearney, Rigger's Mate/Driver
Sean Ferry, Labourer/Relief Gate Guard
Noel Crumley, Labourer/Relief Telephone Switchboard Operator
U.S. NAVCOMMSTA Londonderry Alumni Association
P.O. Box 108
New Boston, MI 48164-0108
Disclaimer