U.S. Navcommsta Londonderry Alumni Association
Former Clooney Base Flagpole and Historical Memorial Marker Project

Below are representations of the proposed marker design

Artwork includes the U.S. Flag, Department of the Navy seal, and U.S. Naval Communications Station Londonderry N. Ireland seal

IMPORTANT - Please note that wording and design detail are subject to change







Title





Historical Narrative





Closing Narrative






Flagpole and Historical Memorial Marker
-CONTRIBUTORS-

Maureen Bauschka nee McGrory - Derry Bride
"In loving memory of Anne (Carlin) Bogema" - Bob Bogema
"In loving memory of Ethel Doherty" - wife of Thomas Duck
"In loving memory of Joan M. Callan" - wife of Thomas F. Pacileo
"In loving memory of YNC Harvey Day" - Marie Day
"In memory of R.N. Elfsten" - Eileen Elfsten
"In loving memory of Thomas H. Porter" - Monica Porter

John 'Boot' Adam
Dolores McGlinchey
Ed Alvis
Frederick Beiner
Richard Bellemare
Dave Bland
John Boyda
Tom Braden
Willi Braun
CAPT & Mrs Paul Byrd
J.E. 'Boe' Campbell III
Thomas Conrad
Michael Crowley
David Dandino
Robert Dimmitt
James Dodrill
Harry Dunlap
Daniel Gelbman
Gene Graeff
Ginger & Jerry Hansen
Edward Hedden
Dennis Hegdahl
Sean-Pierre Hubble
Roger Iles
Joyce McGowan Kent
Dennis McMahon
Dale Kindred
Merle Knapp
Dennis Kolodziej
Stephen Kreps
Louis 'Lou' Loria
Walter Loveless
Sarah Malcor
Ted Malcor
Earle McConaha
Elaine McIntyre
Ward Mills
Edward J. Murphy
Ted Nevels
Leonard Pfau
Dwight Ramey
Kenneth Ramsey
Robert Redmond
David Rossi
Wayne Rousseau
Richard 'Russ' Russell
John Sadler
Bill Scudder
Larry Sink
Ronald Sohns
Richard Stacy
James Sullivan
Clarence 'Joe' Thigpen
Phillip Wade
John 'Larry' Wagner
Joseph T. Wells
John Whitlock
William 'Ken' Williams
Paul Wise
Jack Wrenn






History of U.S. NAVCOMMSTA Londonderry

U.S. Naval communications in Northern Ireland began out of necessity when the U.S. Naval Operating Base (NOB) at Londonderry became a center of military activity at the beginning of World War II. Allied communications centered around a radio facility which was established as an integral part of the Naval Operating Base (NOB) on 3 February 1942. In 1943 the U.S. Navy acquired use of the land upon which the Clooney and Rossdowney compounds were later situated.

The U.S. Naval Radio Station (NAVRADSTA), Londonderry, was established as a separate activity from the U.S. Naval Operating Base (NOB) on 10 July 1944. Thus, this date is considered the actual commencement date of what was to ultimately become U.S. NAVCOMMSTA Londonderry. One month later, on 15 August 1944, the U.S. Naval Operating Base (NOB) was de-commissioned, leaving the NAVRADSTA, and its sailors, as the only remaining U.S. military activity in Londonderry. View the 1944 site plans for the Clooney base: View

On 7 November 1950 the NAVRADSTA at Londonderry was re-designated as a U.S. Naval Radio Facility (NAVRADFAC). View the 1955 site plans for the Clooney base View. It was later designated a U.S. Naval Communications Station (NAVCOMMSTA) on 10 July, 1961.

U.S. NAVCOMMSTA Londonderry was disestablished on September 30, 1977, ending a 35-year history of U.S. Naval communications in Londonderry, N.I., and ending what had been a very long and close relationship of U.S. Navy sailors with the Londonderry community.

At the time of its closing, U.S. NAVCOMMSTA Londonderry had been the oldest U.S. naval facility in Europe. No other U.S. military service organization served in Londonderry longer than the U.S. Navy. While the U.S. Army and the U.S. Marines served in Londonderry for approximately 3 years, the U.S. Navy proudly served for over 35 years.

View a listing of all Base Commanders and Executive Officers from 1942 to 1977: View

Read histories of the U.S. Navy Base in Derry, from 1942 through its closing in 1977. Included are a copy of the 'Welcome Aboard' pamphlet from the late 1960's, the 1976 Change of Command Ceremony pamphlet, documents from the Base's Disestablishment Ceremony in 1977, as well as many other historical items: Historical File
U.S. Navcommsta Londonderry Alumni Association Historical Data Base
Since its formation, the U.S. Navcommsta Londonderry Alumni Association (USNLAA) has been actively accumulating and storing member donated photos and memorabilia from our members tours of duty with the U.S. Navy in Londonderry, Northern Ireland, during those years the U.S. Navy Base was in operation in Northern Ireland - 1942 through 1977. This collection is collectively stored in the USNLAA Historical Data Base, copies of which are made available for purchase by Alumni Association members, historical researchers, writers, and others interested in the history of the U.S. Navy in Northern Ireland.

We invite our members to submit their photos and memorabilia, or copies of photos and memorabilia, for inclusion in the U.S. Navcommsta Londonderry Alumni Association Historical Data Base. All submitted items must be accompanied by a properly executed USNLAA Copyright form. To view and print this form, click on: Submission Form

It is the policy of the USNLAA to own the copyrights to all copyrightable material in the USNLAA Historical Data Base, and to the individual contributions therein, in order to protect the interests of the USNLAA, and its members. USNLAA will make every reasonable effort to act in the interests of members and contributors to the USNLAA Historical Data Base, as well as in its own interests. For all third party republication requests, USNLAA requires that the consent of the USNLAA be sought as a condition in granting republication rights. All questions regarding USNLAA copyright policy should be directed to: Jerry Keenan, USNLAA Historical Data Base Administrator, 16 E. Beech St., Central Islip, NY 11722, or e-mail: secureops@optonline.net
Alumni Association Historian and USNLAA Historical Data Base Administrator
Jerry Keenan (RM, 66-67, 69-70, 75-76) serves as both Historian and Historical Data Base Administrator of the U.S. Navcommsta Londonderry Alumni Association. If you would like to donate copies of photos and/or memorabilia for the USNLAA Historical Data Base, please contact Jerry at e-mail: secureops@optonline.net or, via mail: Jerry Keenan, Int'l Security Services, 16 E. Beech St., Central Islip, NY 11722, for instructions.
Overhead View of NCS Londonderry, Circa 1960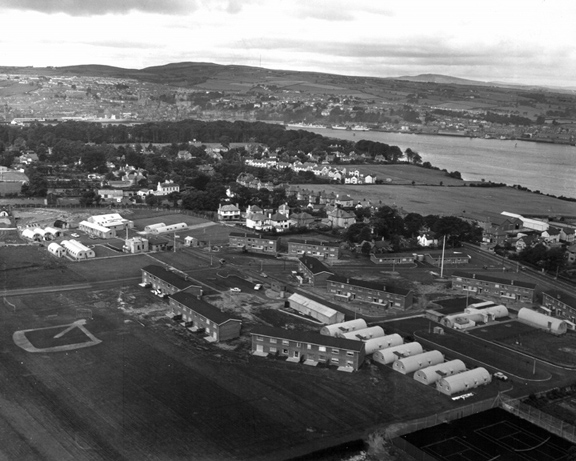 Overhead View of NCS Londonderry, Circa 1969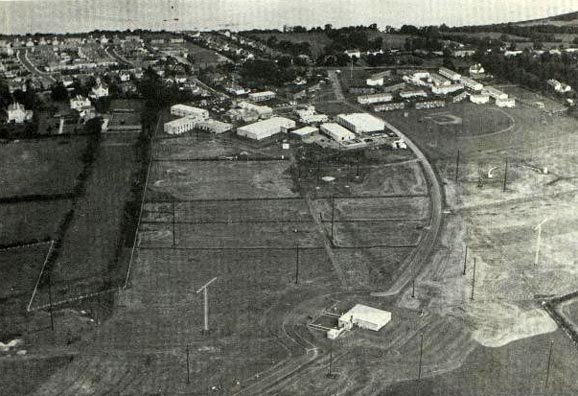 Overhead View of Rossdowney Transmitter Site, Circa - Unknown
Can anyone date this photo?
Note the absence of both Knockwellan Park housing estate and four red/white transmitter towers in the background.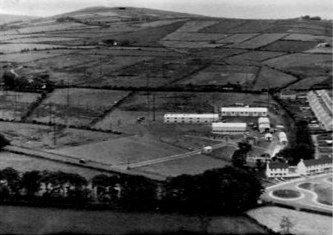 Overhead View of Rossdowney Transmitter Site, Circa 1969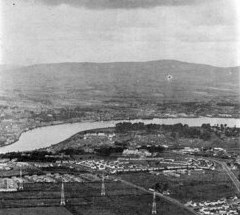 Overhead View of Rossdowney Transmitter Site, Circa 1960's